The Stories Behind The Songs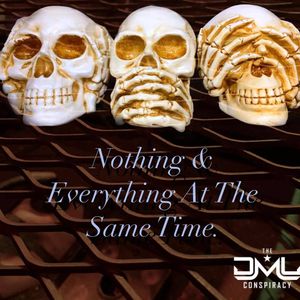 Nothing And Everything All At The Same Time
We all do stupid irresponsible things when we are young. This is how we earn our rite of passage into adulthood.   
At my current age, I would never dream of living in a van with six other sweaty human beings for any length of time, but when you're in your early 20's, it's an amazing experience.   
We were a brotherhood of friends. We had a purpose. We had a meaning. We were living life to its fullest. We had nothing and everything all at the same time.   
The only real problem was, this wasn't my brotherhood. I had a band back home that was falling apart. I was jobless, living on weekly unemployment checks.   
My girlfriend was back in Houston wondering when I was going to come home. She was a saint to be as supportive as she was.  She would deposit my unemployment checks for me while I was living life on the road with my best friend's band.   
But, as the saying goes, all good things must come to an end. I lasted about three weeks before I had to pull the plug on this extended vacation.   
The guys had been amazing to me. They truly made me feel welcome into their world, but I was not destined to live the life of a roadie for Devin's band.   
I was destined to conquer the world with my own band.  This had been a learning experience, and I wanted to share the experience with them.  Spooky La Casa was my brotherhood.  Andy, Grandon, and Eric were my closest friends.  I wanted us to become road warriors, but that dream never fully materialized.   
Star-Crossed Lovers lived like gypsies in a caravan. There was a lot of drinking, a lot of female attention, and a lot of laughter. There may have been a couple of arguments or disagreements along the way, but all within a sibling rivalry expectation, which is understood between brothers and friends.    
My adventure took me through eight states and sixteen cities. I got to experience parts of the country I had never seen before. On off-days, we would venture out to take in some of the local scenery.    
Off-days could include hiking a mountain side or tubing down a river. We would often play tag football during the days, and check out local bands when we could.  We even ceremoniously baptized each other along the banks of the Mississippi River.  Those were definitely good times.   
The tour zigzagged its way through the southern states. Leaving Texas, we went through Louisiana, Mississippi, Oklahoma, Missouri, & Tennessee. From Tennessee, we hit Georgia, Florida, and North Carolina.    
The boys had another week of shows that would take them up the east coast back home to New York. They would get a couple weeks off before heading back out to do shows in Cincinnati, Cleveland, Detroit and Chicago.   
I wanted to stay on for all of it, but I was running out of money and I wasn't on the band payroll. I was on my own dime for this trip.  I really only had to pay for meals and necessities. Lodging was typically provided by a network of ladies that the boys had met on previous trips.   
It was a pleasure to be able to watch the boys rock out each night. Devin had the swagger of Freddy Mercury. The band was playing top notch.  
The audiences were consuming all they were given and still wanting more. It was crazy and exciting to watch.   
When the band was done, Eddie and I would get to work unloading their equipment from the stage and packing up the gear.  Then we would stick around to watch the other bands play.  
The band had been touring for a few years. They had played several of these places on previous trips. They had key people that they could call on to put the band up for a night or let them take showers and get some sleep, although sleep was never high on anyone's priority list.   
A typical string of shows could last six to eight weeks. Then they would spend two to three weeks at home resting and preparing for the next leg of shows.    
They would use this downtime to reconnect with family and friends and to polish up new material that they were planning on introducing to the set list.   
There wasn't much rest for Steven.  He would use his time to book more shows and send promotional flyers and posters to the clubs for them to put up before the band would arrive.  All shows were booked 3-6 months in advance.   
Steven's sister, along with his girlfriend, Holly, would handle band business while the boys were on the road.  They would handle follow-up phone calls to the clubs, and mail any necessary press kits to the new clubs and keep up with the show schedule. Steven would coordinate with them daily from the road.  
Everyone contributed to the band business, but this was definitely Steven's baby.  He handled the majority.  But eventually, this would prove to become too much.  
Once in the van, the road anthem would always be AC/DC's It's A Long Way To The Top If You Wanna Rock & Roll. This song was so fitting to the road experience, but the boys were on their way.  The future was a blank canvas, and they were painting it with as many vibrant colors as they could.